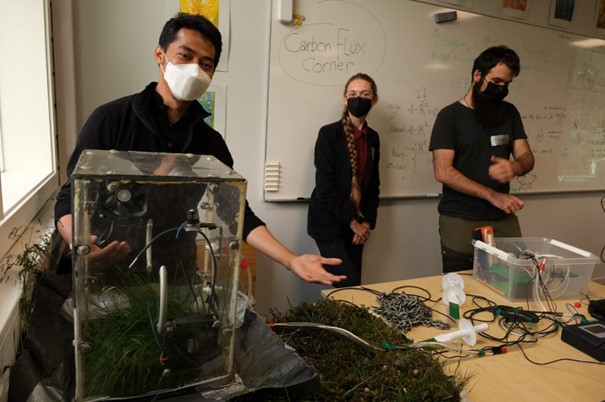 At the end of July, forty-two researchers, including twenty-nine students, traveled from across the world to study the alpine flora in Aurland. They visited eight sites on local farms that are already part of long-term research by Professor Vigdis Vandvik's research group from Universitetet i Bergen.
A common technique to study climate change is to choose research sites along an elevational gradient. The lowest site (here at Vikesland) experiences warmer temperatures and a longer growing season, while the highest site (here at Liahovden) experiences colder temperatures and a shorter growing season. Scientists can then see how plants change when they are moved from higher sites to lower ones, as if they were experiencing a warming climate. Some of the sites were established as long as fourteen years ago, allowing scientists to understand how plants respond to a new environment over time. Dr. Aud Halbritter, a researcher in Vandvik's group, is also interested in how grazing changes plants, so they established plots where sheep and goats could graze and others where the animals were fenced out. 
Since 2016, Vandvik's group, along with Professor Brian Enquist's group in the United States, have taught students worldwidea course for students worldwide on how to measure plant traits. 'Plant traits' refer to a wide range of measurable parts of a plant - how tall it grows, the size of its leaves, the size of its seeds, and so on. Scientists are interested in plant traits because they are a relatively straightforward way to compare plant species and vegetation worldwide. In this course, called the Plant Functional Traits Course or PFTC, postdoctoral researchers and PhD and Master's students learn how to measure plant traits while collecting actualreal data from established sites along alpine gradients worldwide. Past courses have been taught in China, Peru, and Svalbard.
Data from each course is used to study plants in their local setting and joined to the global dataset so scientists can better understand how the effects of climate change's effects vary worldwide. 
This year, researchers collected plant trait data including plant height, leaf size, leaf thickness, and leaf density, as well as other traits such as plant-atmosphere carbon exchange and solar light reflectance measured using more specialized equipment such as infrared gas analyzers and to measure photosynthesis rates, carbon taken from and returned to the atmosphere, and to capture drone-based aerial imagery using drones. Some students even studied the course participants to better understand how the course impacted future scientists. The students conducted interviews with Aurland residents to learn about how to build relationships between residents and student scientists and held an open day where community members could learn about what happens during the course.
By the end of the two week course, the researchers had collected all their data, but are still analyzing their results. They will continue to virtually collaborate on the final reports from their home institutions around the world, and hope to be able to report some of these results here in Aurlendingen in the months and years to come. They also want to extend a warm thank you to the Aurland and Flåm communities for welcoming us, letting us do the research on your land, coming to our open day, and even letting us join you for the morning swims in Aurlandsfjorden! 
Authors:  Rebekka Gullvåg, Alyssa Ohlson, Jocelyn Navarro, Courtenay Ray, Brian J. Enquist, Aud Halbritter, Sean Michaletz, Brian Maitner, Marc Macias-Fauria, Vigdis Vandvik. 
Photo credit: Kai Lepley